We are leading a national movement of exceptional, diverse public charter schools that teach Modern Hebrew to children of all backgrounds and prepare them to be successful global citizens.
אנחנו מובילים תנועה לאומית של בתי ספר ציבוריים מגוונים ומצוינים, אשר מלמדים תלמידים מכל הרקעים עברית מודרנית, ומכינים אותם להיות אזרחים גלובליים מצליחים
Outstanding Problem Solvers
We are optimistic and solutions-oriented. We believe that constructive disagreement and discourse are fundamental to the teaching and learning process. We use critical thinking and evidence to solve problems.

We are raising students to fall in love with learning, so that they continue their learning journey for a lifetime. As adults, we welcome and embrace feedback, and we know that the key to student improvement is our own growth and development.
We know that listening deeply, taking others' perspectives and learning about multiple languages and cultures are all fundamental characteristics of global citizens.  We communicate clearly and effectively with different audiences.
We use our problem solving, learning and communication skills to make big and small differences in the world. From the kindergarten student helping a friend tie her shoelaces, to the teams of adults committed to providing outstanding educational opportunities for our students, each of us plays a role in positively shaping the world we live in.
Hebrew Public provides a wide range of resources and services to help Hebrew language charter schools deliver the highest caliber educational programs.
היברו פאבליק מעמידה לרשות בתי הספר המלמדים עברית מגוון רחב של משאבים ושירותים, וזאת על מנת לסייע להם לספק לתלמידיהם את התוכניות החינוכיות ברמה הגבוהה ביותר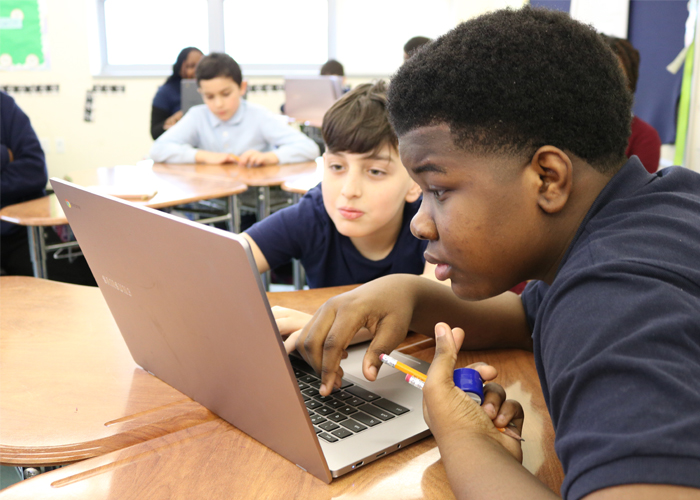 Hebrew Public works with planning teams across the country to help develop new Hebrew charter schools. This work spans the period from initial school conception through school startup, and may include assistance in areas such as:
Feasibility Analysis
Charter Application Process
Community Outreach
Planning and Startup Grants
Budget Modeling
Board Formation and Training
School Leadership and Staff Recruitment
Student Recruitment
Public Relations and Marketing
Once a new school opens its doors to students and families, Hebrew Public provides a full range of ongoing support to individual schools, including:
Curricular Resources, including those relating to Hebrew and the Culture and History of Israel and its Immigrant Communities
Coaching and Mentoring of School Leaders and Board Members
Operating Loans and Grants
Support for Innovative Classroom Projects
Site Visits
Teacher Evaluation Practices
Student Data Systems
Fundraising
Legal Issues
In addition to individualized school support, Hebrew Public works to strengthen our entire network of schools through:
Regional and National Convening
Hebrew Charter School Institute
On-line Courses for Staff
Sharing of Best Practices
Research and Evaluation
Hebrew Public's services, including technical assistance, consulting, site visits, recruitment, professional development, curricular resources, access to grants and loans, and more, are made possible both by the Center's funders, and through fee arrangements with network schools.
For more information about Hebrew Public's services, please contact Kay Lodge at Kay@hebrewcharters.org
HEBREW PUBLIC SCHOOL NETWORK
To build a sustainable educational movement, Hebrew Public believes that it is critical that schools and educators are able to form alliances across the traditional boundaries of classrooms, schools and geography. Therefore, at the heart of our work is an effort to build an active, cohesive school network. We encourage and facilitate school leaders to share ideas, experiences, and strategies in order to address common concerns, issues, needs and goals. By coming together as a network, school leaders are able to provide tangible forms of peer level support, including the sharing of resources and collaborative programming. Teachers are able to share lesson plans and instructional resources through our on–line community.
Hebrew Public works with public charter schools and planning groups who focus on the instruction of the Hebrew language and culture, as well as the study of the culture and history of Israel and its immigrant communities. Hebrew Public provides schools within its network with access to a wealth of resources, professional development and training opportunities in Hebrew instruction through the proficiency-based approach, differentiated instruction, co-teaching models and student developed service learning projects. For more information about joining the Hebrew Public network, contact Kay Lodge at kay@hebrewcharters.org.
Schools funded by Hebrew Public agree to implement all of the following essential elements of our school design. These elements are critical to our mission of growing the national Hebrew language charter school movement, as well as to our commitment to creating and supporting academic excellence in our charter schools.
Academic Excellence: Create an academically excellent instructional program for all students by leveraging the best practices of the workshop model, differentiated instruction, and team teaching.
Hebrew Language Instruction: Provide immersive Hebrew language instruction every day and to all students.
Culture and History of Israel and its Immigrant Communities:  Integrate the Culture and History of Israel and its Immigrant Communities into the overall curriculum to better teach Hebrew language and culture.
Diversity: Serve the full range of students in their communities.
Service Learning: Make service learning and community service a central element of the educational program to help students internalize the values of social responsibility and understanding of diverse cultures.
Relational Capacity: All Hebrew-Public-funded schools must exhibit a strong "relational capacity" to work with Hebrew Public, in that they share a common vision for Hebrew language charter schools with Hebrew Public and other schools in the Hebrew Public network. Hebrew Public expects that its grantees, once authorized, represent themselves as being Hebrew Public network schools.
Shared Ownership: Hebrew Public schools will work in partnership with Hebrew Public to plan, start, and run their schools. Schools will take ownership for their charter process and help identify and cultivate funding partners to help make the school sustainable.